William Klein, MOSKAU, 1965 (German edition)
William Klein's four city books New York (1956), Rome (1959), Moscow, and Tokyo (1964) firmly established a place for him in photobook history. They have become treasured classics, with the ability to enchant half a century after their original publication.
Moscow is one of my all-time favourite photobooks. It is structured into four chapters: 1 moscovites, 2 privileged class 3 parks and places 4 streets. The matt gravure printing is superb, and the deep blacks add a powerful force. The double pages clearly demonstrate Klein's talent for creating stunning landscape-format images. He comes much closer to his subjects than previously, and paints a picture of a lively, thriving Moscow at odds to the much greyer image the West preferred to portray at this time.
William Klein's stunningly graphic cover design is used here for the first time and he quickly established it as his signature look.
The German edition of William Klein's Moscow was published by Nannen-Verlag GmbH Hamburg as part of a series by the German newspaper Die Zeit. The series ran to only three publications, distributed in the following order: Bernard Larsson's Die ganze Stadt Berlin in 1964, William Klein's Moskau in 1965, followed by Tokio in 1966.
Some copies were sent as Christmas presents to the friends of the newspaper. These copies have an extra page bound inside, with a personal dedication by the publisher and the editor in chief, along with their printed signatures (see below).
My copy of the regular commercial version of Moskau came with the plain slipcase shown below. As there are no stamps or markings it can only be assumed that it is the genuine slipcase.
The plates were printed in Japan in 1964 and 1965. The text pages were printed, and the book was bound, in Germany.
Issued in:
USA by Crown publishers, New York 1964 with preface by Harrison E. Salisbury
Italy by Silvana editoriale d'arte 1964 with preface by Harrison E. Salisbury
Japan by Zokeisha, Tokyo 1964 (issued without dust jacket)
Germany by Nannen Verlag GmbH / Die Zeit Bücher 1965 with preface by (German novelist and poet) Helmut Heißenbüttel
William Klein's facebook page: www.facebook.com/William-Klein
Hard cover with dust jacket
190 pages (including additional page)
App. 26.2 x 35.1cm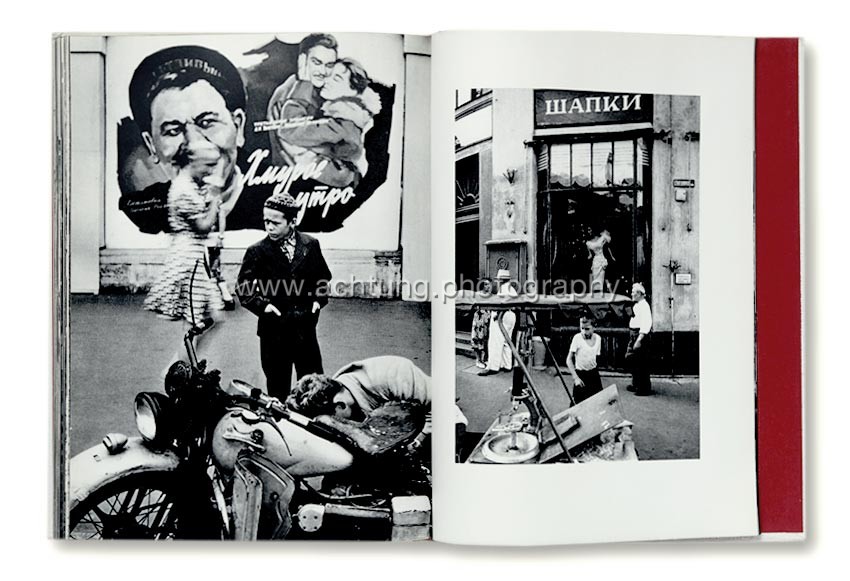 William Klein, MOSCOW, 1964 (Japanese edition)
The Japanese edition was published in 1964 by Zokeisha, Tokyo
Hard cover
190 pages
App. 26.5 x 35.3 cm
William Klein, MOSCA, 1964 (Italian edition)
The Italian edition was published in 1964 by Silvana editoriale d'arte – Milano
The original sales price in Italy 1964 was 10.000 Lire today app. 52 Euros.
Introduction by Harrison E. Salisbury (Text in Italian)
Hard cover with dust jacket
196 pages
App. 25.9 x 35.4 cm
William Klein, MOSCOW, 1964 (US edition)

Hard cover with dust jacket

188 pages
App. 26.2 x 35.4cm
William Klein, MOSCOW, (c.1964) (Dummy or sample book?)
This dummy or sample book was presumably produced by or for Crown publishers as 'Crown' is clearly visible on the spine. All text pages are blank. In fact, all printed sheets which would have contained writing are simply blank pages. This obviously includes sheets which in the final book also contained images, so in some cases pictures are entirely missing or only half a double-page is shown. The typeface used on the cover and spine varies from the final published version.
It was produced without dust jacket, so the design was printed directly on the cover.
Hard cover
188 pages
App. 26.2 x 35.4cm
---
Discover William Klein's other "city" books click on the cover image: