This massive volume was published with the intention of supporting medical jurisprudence and the Criminal Investigation Department. The authors, Dr. Herman Waldemar Weimann and Dr. Otto Prokop, viewed literally thousands of forensic photographs, selecting about two thousand of them for this publication. Most of the black and white images throughout the 836 pages are from the 1930s. Some were actually taken by the authors themselves. Even the briefest of glimpses through this book (and for most people that is probably more than enough!) puts one in mind of the art of Joel-Peter Witkin, the Vienna Actionists, Francis Bacon, and even Jenny Saville. One certainly can't help but wonder if it was viewed more as a creative, or even sensationalist, work, rather than as a genuine scientific tome used by criminal investigators. The chapters read like a list of heinousness and the photographs boldly live up to all expectations.
The 19 chapters are as follows:
1. Sichere Zeichen des Todes (Signs of certain death)
2. Besondere Leichenveränderungen (Remarkable alterations in the corpse)
3. Besondere Leichenstellungen (Remarkable positioning of the corpse)
4. Erstickung und Strangulation (Suffocation and Strangulation)
5. Ertrinken und Tod im Wasser (Drowning and death by water)
6. Verbrennungs- und Elektrotod (Death by burning and electricity)
7. Verletzungen durch scharfe und stumpfe Gewalt (Injuries caused by the force of sharp and blunt instruments)
8. Blutspritzer und Bißverletzungen (Blood splattering and bite injuries)
9. Tod durch Sturz (Death from falling)
10. Eisenbahnüberfahrungen (Non-accidental death by train (ie. train-track suicides))
11. Schußverletzungen (Bullet wounds)
12. Mißhandlung, Vernachlässigung und Pflegeschäden, Verhungern, Kindestötung, Abtreibung (Abuse, neglect and nursing negligence, starvation, infanticide, abortion)
13. Transvestitismus und tödliche Unglücksfälle bei autoerotischer Betätigung (Transvestism and accidental death during autoeroticism)
14. Lustmorde (Passion crimes)
15. Leichenbeseitigung und Leichenzerstückelung (Deposition of corpses and corpse dismemberment)
16. Vergiftungen (Poisoning)
17. Selbstbeschädigung (Self-harm)
18. Identifikationen (Identification)
19. Aberglaube (Superstition)
12 pages index
The dust jacket is printed on a rather thin paper, which can get easily damaged when handling such a large and heavy book. This is an unusual and very special photographically illustrated book. Not a classical photobook by any means, but fascinating owing to its subject matter and the sheer volume of images.
Authors names and titles as stated on the title page:
Waldemar Weimann Dr. med. Medizinaldirektor i. R., Berlin
(German official medicolegal expert.)
Otto Prokop Dr. med. Professor mit Lehrstuhl für Gerichtliche Medizin Berlin der Humboldt-Universität (Charité) Berlin
Direktor des Institutes für Gerichtliche Medizin Berlin
Nationalpreisträger
(Austrian-born official medicolegal expert.)
The book was also published in Italy under the title Atlante di Medicina legale, Editione PEM S.p.A, Roma 1966 (see below) and republished in a revised edition by Swiss publisher Karger 1987, and again by Urban & Fischer Verlag in 1992.
Published by VEB Verlag Volk und Gesundheit – Berlin 1963
Dust jacket and book cover design by Karl Salzbrunn
Hard cover with dust jacket
22.8 x 30.4cm
836 pages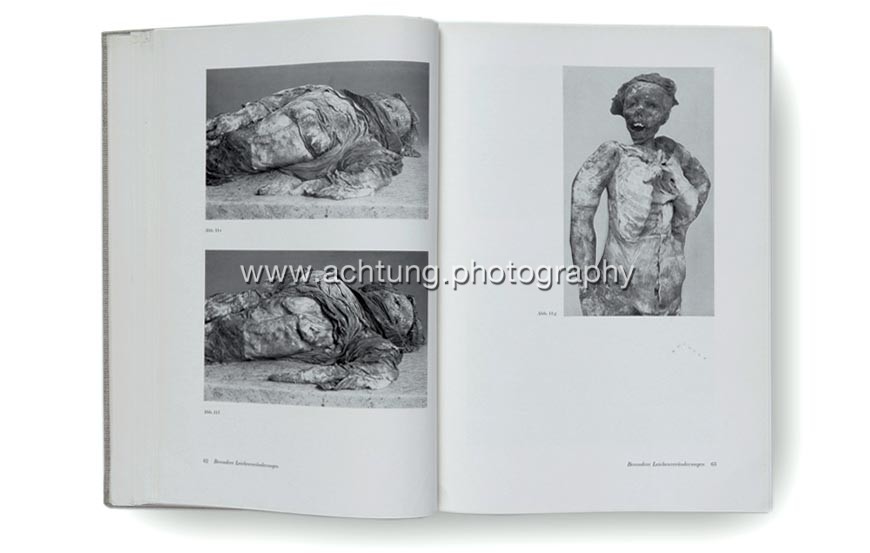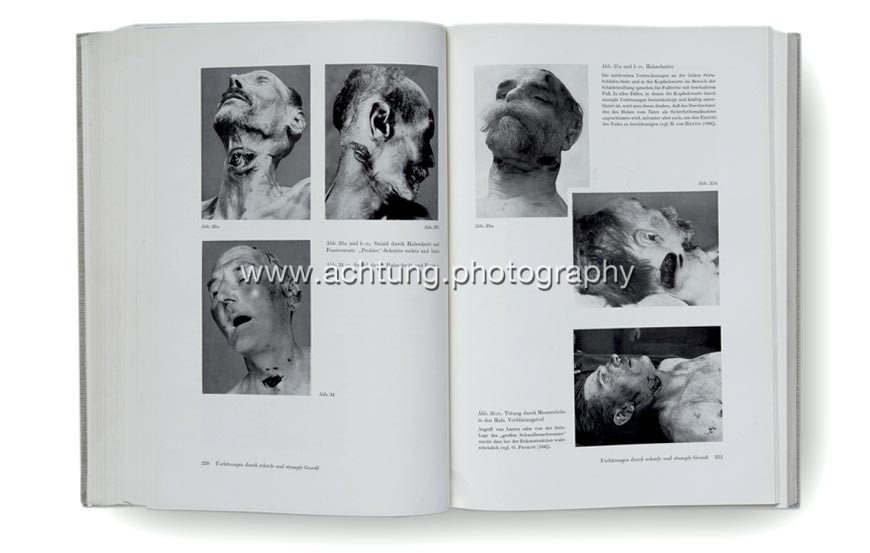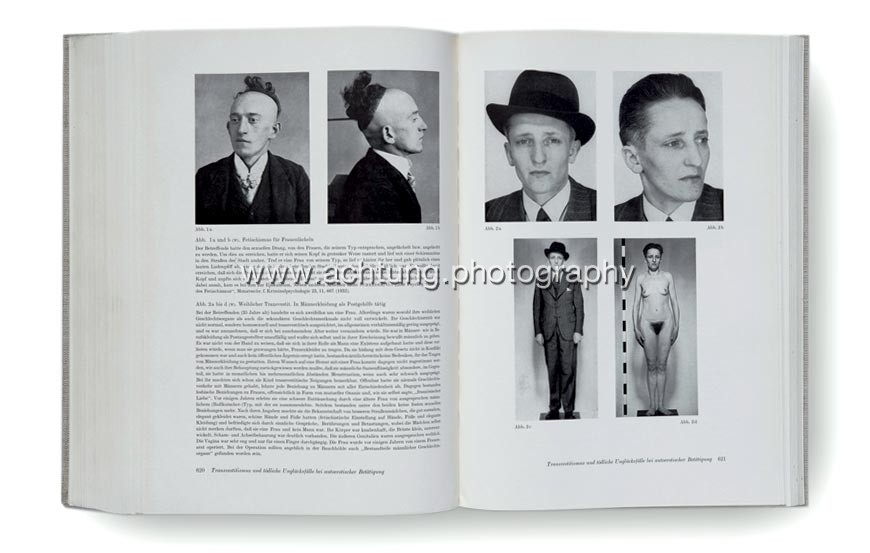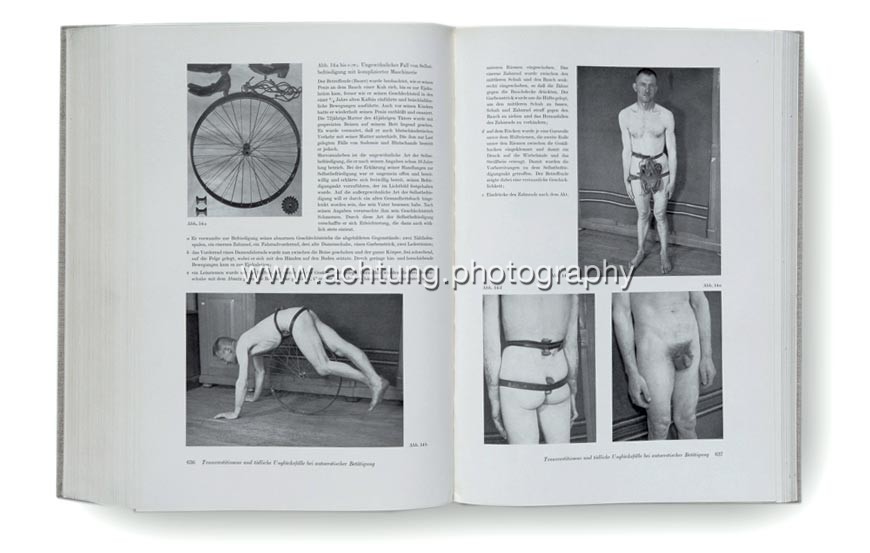 ---
Waldemar Weimann & Otto Prokop (editors), Atlante di Medicina legale (Atlas of Forensic Medicine), 1966
Translation by Prof. Dott. Fortunato Jacopino
Printed by VEB Offizin Adersen Nexö, Leipzig
Published by Editione PEM S.p.A. – Roma 1966
Dust jacket and book cover design by Karl Salzbrunn
Hard cover with dust jacket
22.8 x 30.4cm
840 pages