Formgebendes und konstruktives Element im Bauwesen
This is a construction company book, intended for architects and those involved in the building trade. Full of technical information, and illustrated with drawings and some photographs throughout. The real beauty of this book, for anyone not involved in the building industry, is the 48-page full bleed photographically illustrated section at the end, entitled Von der Zerstörung zum Aufbau (From destruction to building). This obviously post-war title was changed for the second edition to the more upbeat: Das Haus mit Stauss! (The house with Stauss!). What makes it so appealing for me is the mood of the images, that wonderful trash-photo-fanzine-meets-science fiction style. The naive photography and poor reproduction quality add to the overall effect. This is  even more noticeable in the second (1957 softcover) edition as each photograph is printed full page. The second edition also has an updated text and a slightly different photography selection. The simple, eyecatching cover design (which cleverly uses the product as a graphic element) is hidden beneath a more sober illustrated dust jacket. The photographs remain uncredited.
Staussziegelgewebe is a patent form of lath combining wire and brick, used to prepare (mostly interior) walls for plastering.
Edited by DR.TECHN. DIPL. – ING. F. BARAVALLE-BRACKENBURG
First edition published by DIPL. ING. RUDOLF BOHMANN INDUSTRIE- UND FACHVERLAG, Wien Heidelberg, 1953
Hard cover with dust jacket
16.8 x 22.8cm
262 pages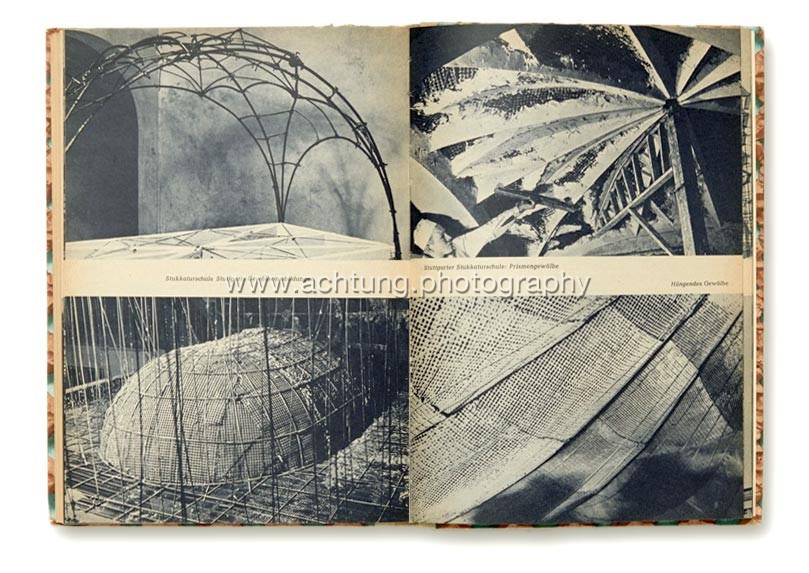 STAUSSZIEGELGEWEBE – Technische Anleitungen, 1957
Technische Anleitung zur handwerklich richtigen und wirtschaftlichen Verarbeitung der STAUSSZIEGELGEWEBES aus Rollen und Matten
Second edition self-published by Staussziegel-Industrie-Aktiengesellschaft St. Pölten, 1957
Soft cover
App. 11.4 x 16.0cm 
176 pages (Plus one four-page technical drawing bound in)