This slim exhibition catalogue is a valuable document of Viennese Actionism, packed with photographs of artist Rudolf Schwarzkogler's polarising performances (Aktionen). These "Actions" were filmed but also documented by various photographers. The photographs, originally intended to document the events, have now become art works in themselves. The black and white images of bandaged half- or full-nude models (mainly Schwarzkogler's friend, the model and photographer Heinz Cibulka) are disturbing and electrifying.
The catalogue opens with texts by Hermann Nitsch and Rudolf Schwarzkogler, followed by 14 pages of Schwarzkogler's drawings. The main body of the catalogue consists of photographs by Ludwig Hoffenreich, Michael Epp and Franziska Cibulka. Cibulka's wife at the time. The book closes with a 17-page sequential photographic section of Schwarzkogler's "Aktions" and one page of biographical information.
Published seven years after Schwarzkogler's tragic death, caused by accidentally falling from a Vienna apartment window in 1969.
Heinz Cibulka himself has also published several books, including 'Heinz Cibulka, Mein Körper bei Aktionen von Nitsch und Schwarzkogler' where he showcases his participation in the performances ("Actions") of Schwarzkogler and Hermann Nitsch during the late 1960s. See HERE.
12 pages text (3 pages text by Peter Weiermair in German and English, 5 pages text by Hermann Nitsch in German and English and 4 pages text by Rudolf Schwarzkogler in German)
14 pages drawings by Rudolf Schwarzkogler
Photographs by Ludwig Hoffenreich, Franziska Cibulka (now Franziska Krammel), Michael Epp
1 page biographical information
Published by Galerie Krinzinger, Innsbruck 1976
Soft cover
20.9 x 28.0cm
128 pages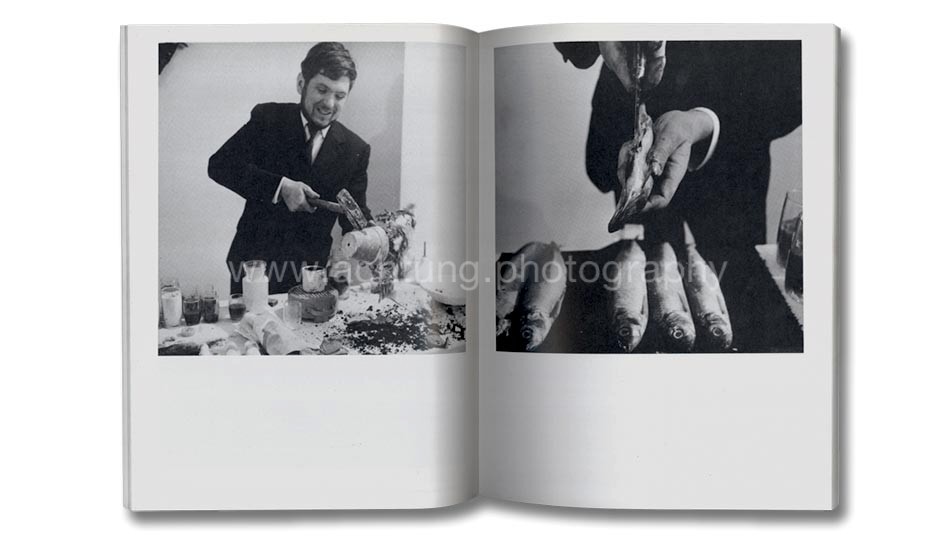 Rudolf Schwarzkogler, La Capella Underground, 1977
Rudolf Schwarzkogler catalogue by the Centro ricerche cinematografiche e audio / visive La Capella Underground Triest, Italy from 30th April – 14th May 1977
Organized by the ARTEQUATTRO group. The cover photograph was taken in 1965 by Ludwig Hoffenreich during Schwarzkogler's 2nd 'Action'.
One page text by Rudolf Schwarzkogler Manifest "Panorama 1 / Il nudo totale" from 1965
Six pages text by Peter Weiermair from 1976
Four pages text by Hermann Nitsch
Texts by Rudolf Schwarzkogler, Peter Weirmair and Hermann Nitsch in Italian.
Cover photo (crop of original square format image) by Ludwig Hoffenreich
Selected by Pierpaolo Bisleri
Translated by Erika Stocker-Micheli
Published by gruppo ARTEQUATTRO, 1977
Soft cover (staple bound)

15.6 x 20.9cm
24 pages
Related books: