Swiss photographer René Groebli's photographic essay was shot in 1949 and published later the same year. It captures the magic and spirit of steam train travel during the late 1940s. A journey into an era long gone.
Despite being a young and relatively unknown photographer, Groebli was able to borrow enough money to finance the printing of Magie der Schiene (Rail magic), his first book. Though it is technically more of a portfolio than a book. The pages are unbound and laid in loose.
Groebli told me that his inspiration for the format and production of this "book" was the Man Ray and Paul Eluard publication FACILE from 1935 (which he purchased on his first trip to Paris in 1948).
Photographed in and around Paris, as well as locations in Switzerland (with a Rolleiflex 6×6 and a Leica 35mm camera). Groebli's visual approach is quite unusual for the time. Blurry and grainy images capture the energy of his subject. A book truly full of magic.
A total of 16 photographs (including front and back cover) are reproduced in exceptional printing quality. An obi-band with German text was produced for the approximately 30 to 40 original preorders. All other copies of the book were sold without. Many years later Groebli reprinted some obi-bands (without the price of sfr. 11.- printed on the back) for the remaining (first edition) copies in his possession, using an Epson inkjet printer and old stock paper.
A photographic work of beauty which only continues to increase in importance and value with time.
1 page poem DIE ZÜGE (The trains) by Swiss author and poet Albert Ehrismann
16 photographs (including front and back cover)
2 pages Nachwort (afterword) by Swiss journalist and author Hans Ulrich Gasser
Design by René Groebli
Printed in Lausanne, Switzerland
MAGIE DER SCHIENE was published in an edition of 700 numbered copies (1-700)
by Kubus Verlag, Zürich, 1949
RAIL MAGIC was published in an edition of 300 numbered copies (701-1000)
by the Press Centre Ltd. for PHOTOGRAPHY, 9-10 Old Bailey London EC4, 1949
René Groebli's website: http://renegroebli.com
Soft cover
18.3 x 24.2cm
28 pages
RENÉ GROEBLI – PHOTOARCHIVES 2, 1995
PHOTOARCHIVES 2 – RENÉ GROEBLI
IDES ET CALENDES / LA BIBLIOTHÉQUE DES ARTS
22 photographs
Editions de Ides at Calendes
This small-format French publication is basically a booklet and a leporello housed in a thin cardboard folder. Each side of the leporello shows 11 photographs of René Groebli's classic photographic rail essay.
Brief introduction in French on the inside cover.
Booklet contains 6 pages text by André Klopmann and 1 page biographical information about of René Groebli.
Published in an edition of 1000 copies by Editions Ides & Calendes, Neuchâtel, Switzerland, 1995
10 copies numbered 1-10 with an additional silver gelatine print
Soft cover folder with glassine jacket
12 x 17cm

11 +11 pages leporello 
9 x 11cm (folded) 9 x 99cm (unfolded)
12 page booklet
9 x 11cm
René Groebli, RAIL MAGIC, 2006
RAIL MAGIC
Edition of the complete series of 64 photographs
Text by Guido Magnaguagno in German. English and French
Published by Zürich, Galerie Andy Jllien, 2006
René Groebli, MAGIE DER SCHIENE Facsimile, 2009
This is the facsimile edition of the 1949 book. There are just a few subtle differences to the original first edition.
Despite the credit page of the first edition stating that it was printed in Tiefdruck (gravure printing), the ink appears slightly shiny, with deeper blacks. This facsimile, on the other hand, does have a more matt, gravure-like appearance. And the printing quality is stunning. The book comes with the green obi-band.
The book used for this facsimile is number 44 in the original, numbered edition. This means that all 330 facsimile copies have the number 44 on the credits page. They are however additionally (genuinely) hand-numbered and signed by René Groebli on the title page.
A white slipcase houses the facsimile edition, booklet, DVD and publisher's order card.
MAGIE DER SCHIENE slipcased facsimile edition consists of:
Slipcase
18.2 x 24cm
Facsimile of the original 1949 German-language edition
(One of 300 signed and numbered copies)
Soft cover with obi-band
28 pages
18.1 x 24cm
DVD
Film by Phil Dänzer 'Magie aus der Dunkelkammer' ('Magic from the darkroom') – Der Fotograf René Groebli. (2007).
50 minutes
Folder
'René Groebli, Photographer' with an overview of René Groebli's works and an essay by René Teo Schlachter.
Soft cover
16 pages
17.9 x 24cm
Publisher's 2-page advertisement & order form
14.6 x 21.1cm
Total print run 330 copies
300 copies hand-numbered and signed (as described above)
10 copies roman-numbered and signed in clamshell box with additional inkjet print
20 artist's & publisher's copies
Published by Kubus-Verlag / Antiquariat & Edition Peter Petrej, Zurich.
Peter Petrej's website: https://www.buch-antiquariat.ch
Also published as a boxed edition with print:
MAGIE DER SCHIENE boxed edition with print
Facsimile of the original 1949 German edition
10 signed and numbered copies with inkjet print
Published by Kubus-Verlag / Antiquariat & Edition Peter Petrej, Zurich.
Peter Petrej's website: https://www.buch-antiquariat.ch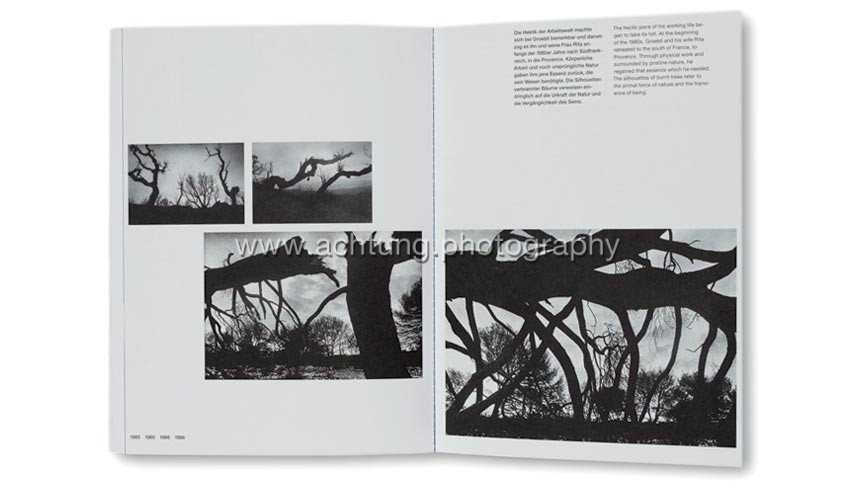 René Groebli, MAGIE DER SCHIENE, 2017
This widely extended edition has a total of 74 images, which includes 59 previously not featured.
74 photographs
Essay by René Schlachter
Text in German and English
Published by Sturm & Drang Publishers 2017
Soft cover (open thread-stitching)

17 x 23cm
128 pages
Publishers website: https://sturmanddrang.net/
OTHER BOOKS BY RENÉ GROEBLI: