Japan: A Photo Theater, (Nippon Gekijō Shashinchō, にっぽん劇場写真帖) is Japanese photographer Daido Moriyama's first book. It was published in 1968, the year after he had received the New Artist Award from the Japan Photo Critics Association for his series of images of (street) performers published in the monthly photography magazine Camera Mainichi. The book contains these images, mixed with street scenes and other pictures, seemingly chosen at random, giving a glimpse of Moriyama's world and of what would become his trademark style. This visual language was part of the burgeoning Japanese photography scene of the late sixties, encapsulated in the legendary Provoke Quarterly. The first issue was published later in 1968, with Moriyama contributing to volumes 2 & 3 in 1969.
The book opens with several pages of text followed by a photograph of Japanese actor Shimizu Isamu (Moriyama recently devoted a whole book to this actor, published by Akio Nagasawa (www.akionagasawa.com). It ends with haunting close-up photographs of foetus-like babies, presumably dolls. In between is a vast array of strong, high contrast, snapshot-like black and white imagery. The middle of the book contains a second text section, which comes like a brief break, before you continue with your journey through this energetic book.
The images are printed in matt-black gravure, although some images have that xerox quality to them, of which I'm personally a big fan. The paper used for the text pages is thin, almost newsprint-like, and usually yellows with age.
This book launched Daido Moriyama's unstoppable journey into the realm of Olympian street photographers.
The book was only available as a softcover, housed in a very simple, and fragile, brown cardboard slipcase.
Text by Terayama Shuji (寺山修司)
Daido Moriyama's website: www.moriyamadaido.com
Published by Muromachi Shobo, July 1968
Soft cover with slipcase
22.1 x 20.8 cm
216 pages (including front and end papers)
The book was republished in 1995, 2011 and 2018. (see below)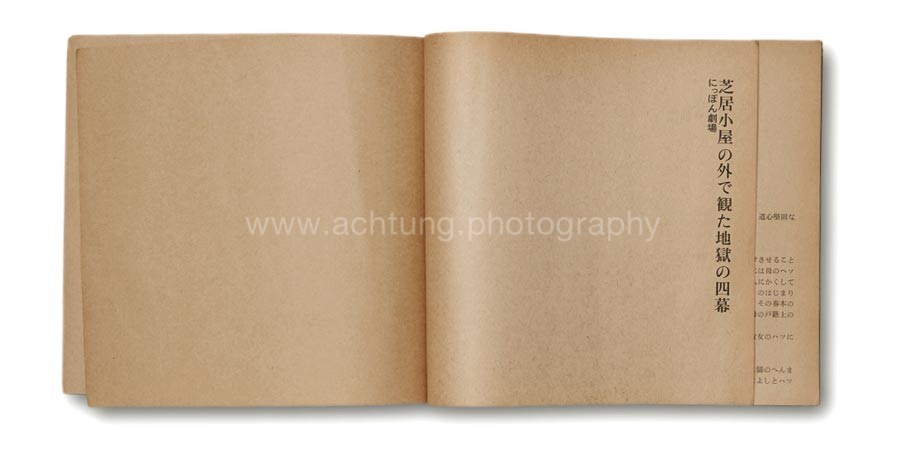 ---
Daido Moriyama (森山大道), Japan: A Photo Theater (Nippon Gekijō Shashinchō, にっぽん劇場写真帖), 1995
Published by SHINCHOSHA Publishing ,Co.,Ltd,Japan / Photo Musée, December 1995
Soft cover with dust jacket and obi-band

25 x 20 cm
284 pages
---
Daido Moriyama (森山大道), Japan: A Photo Theater (Nippon Gekijō Shashinchō, にっぽん劇場写真帖), 2011
Published by Kodansha ltd, Japan 2011
Soft cover with dust jacket and obi-band

11,5 x 18,1 cm
218 pages
---
Daido Moriyama (森山大道), Japan: A Photo Theater (Nippon Gekijō Shashinchō, にっぽん劇場写真帖), 2018
Published by Getsuyosha Limited October 2018
Hard cover with soft cover booklet and slipcase

23 x 30,8 cm
220 pages (book)
56 pages (booklet)

---
See these other PROVOKE – related publications: