The graphic cover of this booklet grabbed my attention in an antique bookstore in Vienna, where I noticed it piled amid a stack of books selling for two euros each.
This 1955 publication is an attempt to whitewash and rebrand the image of the atom, a decade after the bombs which obliterated the cities and people of Nagasaki & Hiroshima.
The first double-page shows Austrian governor Julius Raab with a foreword explaining the necessity of being informed about The Atom. On the right page there is a portrait of US President Dwight Eisenhower, with the ironic declaration: "Mein Land will aufbauen und nicht zerstören. Es will mit anderen Nationen Vereinbarungen treffen und keine Kriege führen." ("My country wants to be constructive, not destructive. It wants agreement, not wars, among nations." From Eisenhower's 'Atoms for Peace' speech to the UN General Assembly in New York on December 8th, 1953).
Like many books of its age which dealt with scientific subjects, it almost resembles a child's book, and could easily have been used in schools. The book is structured into the following chapters:
Kleine Fibel der Kernphysik (Small primer of nuclear physics)
Der Reaktor (The reactor)
Ein Reaktor wird gebaut (A reactor is built)
Radioisotope (Radioisotopes)
Verpackung von Radioisotopen (Packing radioisotopes)
Radioisotope in der Industrie (Radioisotopes in industrial use)
Radioisotope in der Landwirtschaft (Radioisotopes in farming)
Radioisotope in der Medizin (Radioisotopes in medical use)
This is a propaganda publication in classic 1950's style. Or as we call it today PR. It is fascinating seeing how the future was imagined then, and how with hindsight that future can look quite ridiculous. I particularly enjoyed learning how radiation makes plants grow bigger and stronger.
I have also posted two other wonderful Atom-related items below.
The first is a jolly Austrian 'boring' postcard from the 1970s, advertising 'Strom für die Zukunft' (Electricity for the future). It shows the infamous atomic reactor at Zwentendorf an der Donau in Austria. The reactor was built in 1972, only to be rejected in 1978 by public vote before it had even gone into use.
The second gem is a 1938 advertisement for Vöslauer Mineral water: "Vöslauer Mineral Cure and Table Water – RADIOACTIVE!". Despite this venture, Vöslauer remains Austria's most famous producer of mineral waters.
Herausgegeben von der Österreichischen Liga für die Vereinten Nationen (Published by the Austrian League for the United Nations)
Verantwortlicher Herausgeber Hugo Treo, Wien (Publisher responsible Hugo Treo, Vienna)
Soft cover
20.5 x 24.9cm
32 pages
Atom, (German edition)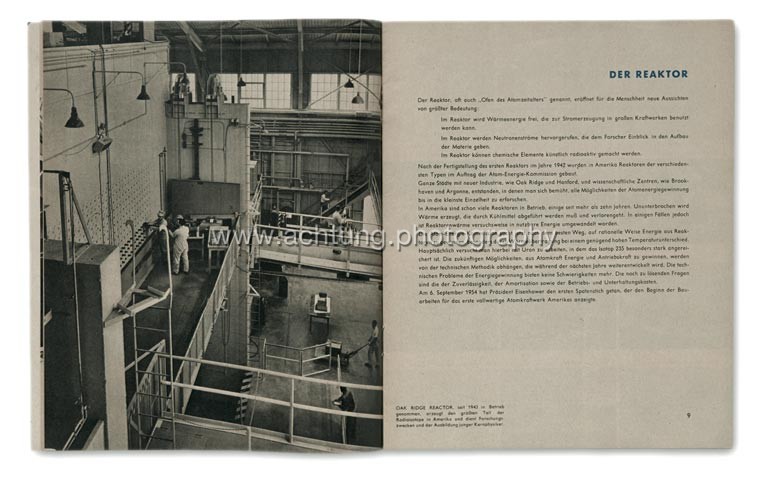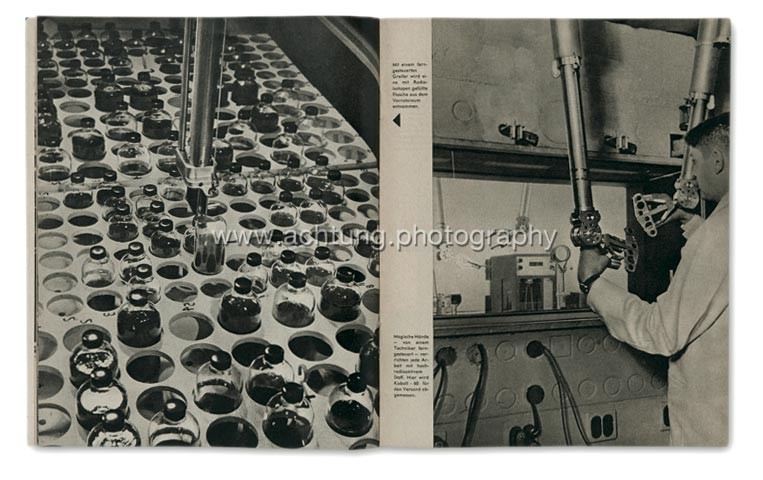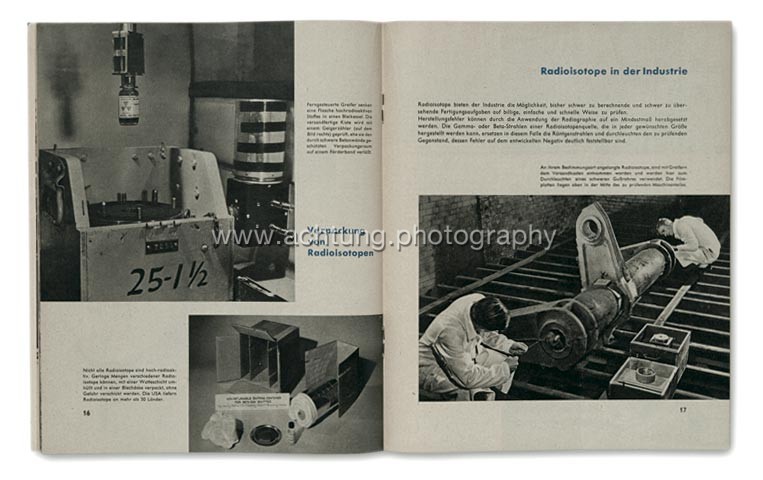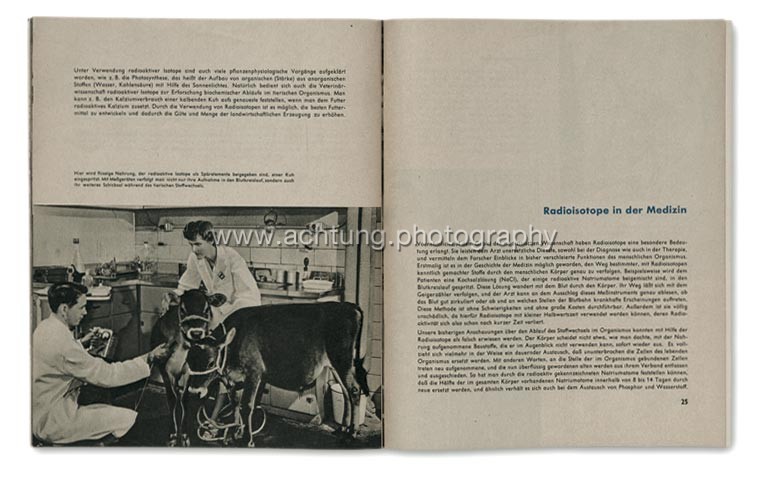 The German edition is largely identical to the Austrian edition, except for the shorter title, the use of blue colour in the layout, and the additional preface by James B.(Bryant) Conant (First U.S. Ambassador to West Germany).
Herausgegeben von US – Informationsdienst, Bad Godesberg 1 (Published by the US -Information Service, Bad Godesberg 1)
Gestaltung (Layout): Rudolf J. Schmitt
Druck (Printed by): Druckhaus Tempelhof Berlin
Soft cover
20.5 x 24.9cm
32 pages